Nurture Group
The Den is the base for our Nurture Group. Nurturing is about encouraging the development of a child in a safe, predictable environment and routine.
The Den is effectively structured to allow children to develop a range of social and/or emotional skills. Each session follows the same structure; it begins with mindfulness, followed by key skills and child initiated learning. There are opportunities for individual and shared play and social activities. The children also enjoy a drink and a snack.
In the Den we have been talking about team work. We have been looking at why its important to listen to others.
We have also spoken about the way we speak to others, if we don't have the same idea what could we do?
Year 1 worked together to design their own shield for the den.
Year 2 played team activities, where we practised our speaking and listening skills.
We feel that it is important to maintain a healthy balance of indoor and outdoor activities that will nurture the children's learning. So with the weather getting warmer we are utilising the resources that we have outside. After the children have finished their key skills it is nice for them to be able to enjoy playing a game outside under the tree and interacting with Daisy while taking her for a walk around the field. One of Daisy's favourite past times is relaxing, watching the children paint.
We have mindfulness at the beginning of every session, we colour in silence listening to relaxing music even Daisy enjoys listening and relaxing!
At snack time we work as a team to set the table, we enjoy toast, cereal and fruit. In pairs we wash and put away our plates, bowls, cups and cutlery.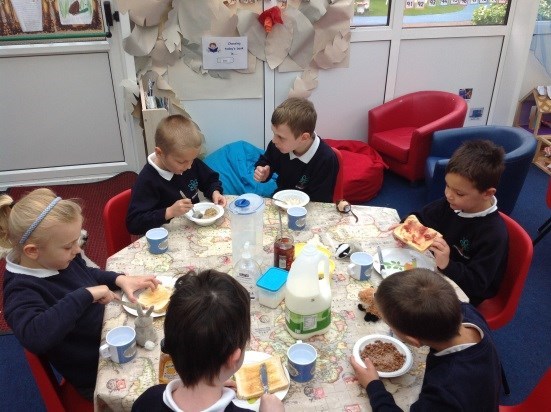 Daisy enjoys listening to a story in the book corner.